On my hypnosis Web site, hypnosis-corvallis.com, I've been using the vCita lead generation/scheduling/payment system for months now, and it's made my life a lot better! Why?
Online Scheduling is Wonderful!
If your Web site allows online scheduling, you get more clients. It's as simple as that.
You wouldn't believe how many clients make the decision to see me in the middle of the night! With online scheduling, they can take care of it on the spot and go to bed happy that they've taken the next step.
With online scheduling, both you and your client can receive reminders before an appointment. I'm set up to have reminders sent 24 hours before an appointment, and again four hours before. Thus, everyone shows up! I like that.
With online scheduling, you just set your office hours, and clients can schedule — or reschedule — anytime, without having to call you.
Google calendar integration means that any schedule conflict that eats into your office hours marks those hours as unavailable.
There's a free version of vCita that's not too bad, and even their fanciest version is pretty affordable.
It reduces phone calls to a bare minimum. Once I set up vCita, clients practically stopped calling me, but sales and client satisfaction were at least as high as before.
This is a very spiffy set of features. It's super convenient for both me and the client to not have to play telephone tag and struggle with our calendars just to set up an appointment.
Online Payments
In addition, vCita allows clients to make online payments, using PayPal or credit/debit cards.
I started out with PayPal (that's all vCita offered at the time), which allowed clients to pay from their PayPal account or (rather clumsily) by credit card.
Not long ago, they also started offering credit card payments through Stripe, which has a much simpler and easier-to-use interface. My clients like that!
Payment in advance, or not. After trying a couple of options, I eventually decided to insist on payment in advance for new clients, since I was getting a lot of no-shows. The results? The number of clients who showed up remained the same, or maybe went up a little, while no-shows fell to zero.
This is good for me, and I'll bet it's good for the no-show clients, too. I don't claim to understand the psychology of the no-show client (after all, I don't get to meet them!), but it's probably unpleasant for them to make a promise and then break it. Better not to make it in the first place.
vCita also supports invoicing, but I haven't tried it, because my life is so much simpler when I don't offer credit. If people pay in advance or during the session, I don't have to send invoices!
Contact Form
There's an online contact form that you can set to pop up (at least, you can if your Web site uses WordPress) after enough of a delay that the reader might be ready to respond. I find that people often want to ask a question or two before committing, and a simple, inviting contact form often gets them to take that step.
Easy to Set Up
I find vCita's everyday navigation to be a bit screwy, and you'll swear at it a bunch of times before you can find things when you want them, but setting up the features is pretty easy.
Click on the "Contact" tab at the bottom of the screen on every page of hypnosis-corvallis.com, and you'll see vCita's features in their native habitat.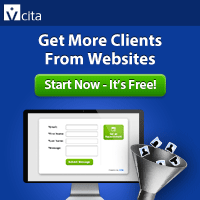 Related